Alley Yerger of Scottsdale, Arizona, is a Xerces member working to engage her local community in pollinator protection. Having earned a master's in Environmental Planning as well as a Bachelor of Science in Landscape Architecture from ASU, Alley has an extensive background in ecological landscape design and horticulture.
This past spring, Alley worked with the nonprofit Scottsdale Leadership to revitalize Pride Park, a neighborhood pocket park. In a collaborative effort, Keep Scottsdale Beautiful pitched in to help design and install the park upgrades, with pollinator habitat as a front and central theme. 
Pride Park offers a welcoming and peaceful setting for the community to congregate, unwind, and enjoy the outdoors. The Scottsdale Leadership team aims to enhance the quality of life for neighborhood residents while attracting pollinators like butterflies, bees, and hummingbirds. 
Local artist Laura Thurbon was recruited to add a pollinator-themed mural that communicates to visitors right away that they are visiting a pollinator sanctuary. As visitors meander the park, they will find nesting houses for mason bees and designated "Pollinator Palaces" full of plants for native bees and butterflies. These features are marked with pollinator habitat signs in both English and Spanish donated by the Xerces Society.
"Sustainability is very dear to my heart, so being able to share my knowledge while working on this project was a big win," says Yerger. "The biggest takeaway I hope people can understand is that, without pollinators, we probably wouldn't survive. We need to not just celebrate these incredibly contributing species, we need to protect and provide for them as well." Yerger hopes that Pride Park will offer safe habitat, nesting, and food resources for pollinators, while inspiring and educating those who visit.
Together, these community members have succeeded in creating an urban oasis that will be an asset for the neighborhood and all of its inhabitants for years to come. The beautiful new design boasts six new trees and over 60 new pollinator-friendly plants suited for the desert landscape. Three of these desert-suited pollinator plants are highlighted below.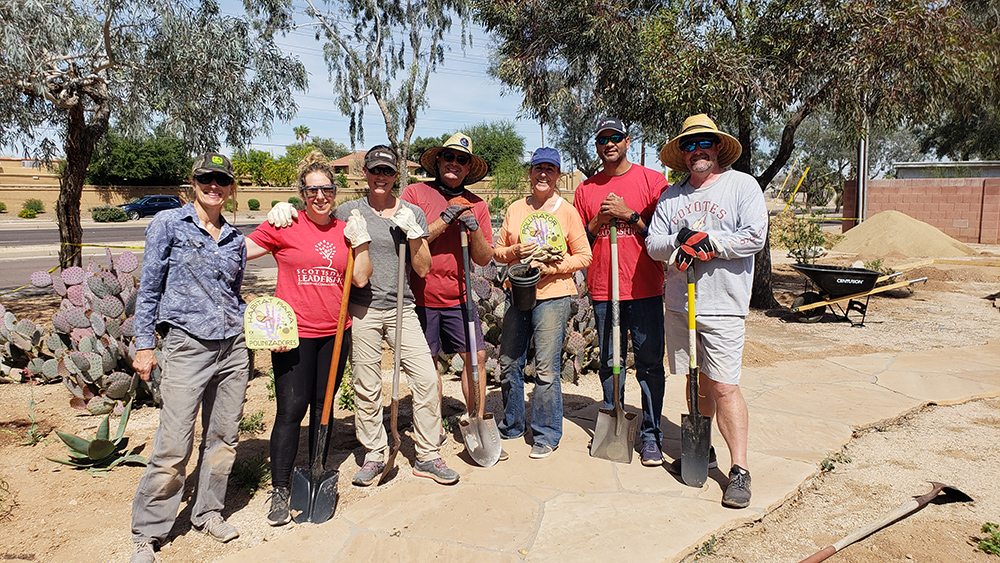 Desert-Suited Pollinator Plants
Desert Milkweed (Asclepias subulata) 
Known as the "toughest milkweed", this plant is composed of tall, slender stems, narrow leaves, and creamy flowers, with a height of up to 4 feet and a spread of 2 feet. It is one of the hardiest and most heat tolerant varieties of milkweed and a favorite of both monarchs and their look-alike, the Queen Butterfly (Danaus gilippus). Typically found growing in sandy washes, this striking milkweed can be found in southern Nevada, western Arizona, and southeastern California, as well as in Baja California, Sonora, and Sinaloa, Mexico.
Prickly Pear (Opuntia spp.) 
Visited by hummingbirds and invertebrates alike, Opuntia spp. are iconic plants well adapted to desert life that bear beautiful prickly pear fruits. This shrub habit cactus can be found growing from central Arizona to northern Sonora. Opuntia is relied upon by many native bees, including Diadasia rinconis and Agapostemon texanus. The fruits are also sought after by other wildlife beyond insects.
Desert Marigold (Baileya multiradiata) 
Bearing heads of vivid yellow flowers at the ends of many flower stalks, showy desert marigold is a biennial growing 12–18 inches tall in a mound. Blooming from March through November, this cheery plant is a smart addition to desert pollinator gardens. Desert marigold is native to the deserts of northern Mexico and the southwestern United States and has been recognized as attracting a variety of native bees.