The Western Monarch Thanksgiving Count (WMTC) is in full swing, continuing through December 3rd – when hundreds of thousands of monarchs arrive along the California coast as part of their long-distance seasonal migration. The WMTC is a long-term citizen science monitoring effort and the enthusiasm within the count is truly contagious. From the Xerces office in Portland, Oregon, I have been assisting coordinators and volunteers by providing location details and any information we have available to help people find overwintering sites. Recently, I had the opportunity to visit one of the most iconic sites and was thrilled to experience the phenomenon of the monarch migration first hand.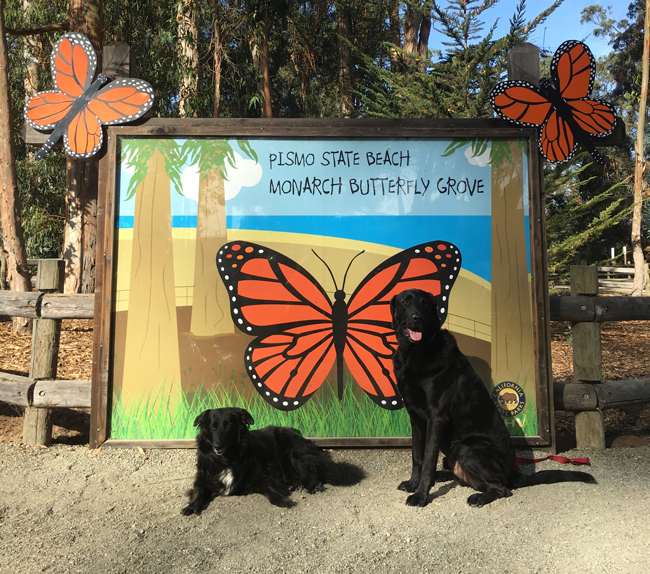 We arrived at the Pismo Beach Monarch Butterfly Grove on November 19th for an overwintering count training led by Jessica Griffiths, San Luis Obispo Regional Coordinator. Committed counters were out early, collecting data at 7 am to make sure that they recorded the number of monarchs clustering before the day became too warm. As the morning sun rises, it warms up the butterflies' flight muscles and enables them to move around – making counting more difficult.
Having read about these sites I was looking forward to seeing thousands of monarchs clustered together. At first glance they are easy to overlook, resembling dead leaves when not in motion, but after the first cluster was pointed out to me by Emma Pelton, Xerces Society Western Monarch Lead, I developed a solid search image and was able to pick them out. With more than 10 years of experience working in the natural sciences, I am still amazed at nature's adaptability and the tricks up her sleeve, being able to camouflage 12,000 butterflies as dead leaves is ingenious.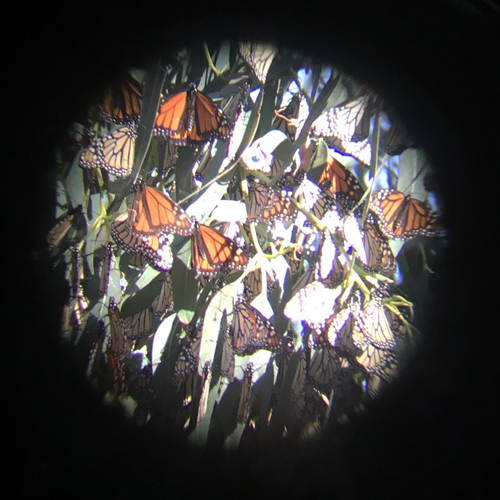 Monarchs and their migration are amazing phenomena and we can all play a role in ensuring their future. The overwintering sites are places of wonder and discussion. I wanted to stay all day and watch the monarchs warm up and flutter around, and listen to the monarch-inspired conversations happening around me. Kids of all ages were calling out to butterflies to come closer. Equally enthusiastic adults who may have never given a second thought to insects were captivated by this overwintering site. Entire families were having in-depth conversations about the monarch life cycle and how many generations occur.
The morning was brisk and just below 50 degrees, perfect for counting as the butterflies were still tightly clustered for warmth. We discussed the different categories (e.g., loners, fliers, etc.) and practiced counting different types of clusters, from loosely clustered to tight three dimensional clusters. Meeting the volunteers and seeing their dedication to contributing to this citizen science effort was inspiring and the dedication was palpable. Around 9:30 am the sun was starting to come through gaps in the canopy and the grove became a bustling attraction with families and dogs. A successful morning in the grove resulted in a newly trained group of volunteers and another years' worth of data, to add to over 20 years of observations. This massive amount of data collection wouldn't be possible without the volunteers, regional coordinators, and collaborations. I am thankful to have been a part of it and urge all of the volunteers to keep up the great work!