Until recently, high school students at The U School in Philadelphia farmed extensively in raised beds and grow bags. Led by teacher Anna Herman and her students, their work was recognized when they were awarded funds as a flagship garden through the USDA Peoples' Garden Initiative (PGI). 
In their PGI proposal, Anna and her students had a big vision. They knew that plants are more drought resilient when their roots can go deep into the soil. And not so far away, the parking lot area was underused. They decided to depave 2,250 square feet of asphalt to expand the food garden and establish a pollinator meadow.
The students participated in a "design charrette" planning session, which allowed them to co-design the depaving location, size, and a preliminary garden map, including desired plants and goals. Half of the newly depaved area would be a vegetable garden. For the other half, they wanted to support pollinators.  The Xerces Society helped translate the class's vision into a plant list, sourced the plants from Pinelands, a local nursery, and assisted with layout and design during planting. Xerces also helped with pollinator lessons, installation, and worked with the woodshop class to build bee houses. 
With the new site established, "We were able to double the size of our food growing area, and add native plants and flowers," said Herman. "This more than doubled the possible curricular connections and hands-on service learning opportunities for our students and beauty for our school neighbors."
Depaving offers multiple benefits
Depaving urban areas can offer many benefits, including climate resiliency, urban cooling, water infiltration, pollinator habitat and food security. Depaving also reclaims impermeable surfaces, helping to meet stormwater management and heat-island reduction goals. Depaving thus met an exciting combination of climate readiness, increased stormwater management, and a much-needed expansion of greenspace. 
In The U School's new garden, the meadow habitat directly provides pollen and nectar with high nutritional quality, supporting bees and butterflies and other pollinators that benefit the adjacent garden and boost the harvest of delicious fruits and vegetables. Different pollinator species visit different flowers, thus increasing the resiliency of pollination services for food plants. Finally, plants support parasitoid wasps and predators which help control crop pests in nearby vegetable plots. As a result, expanded habitat contributes directly to increased garden productivity and neighborhood food security.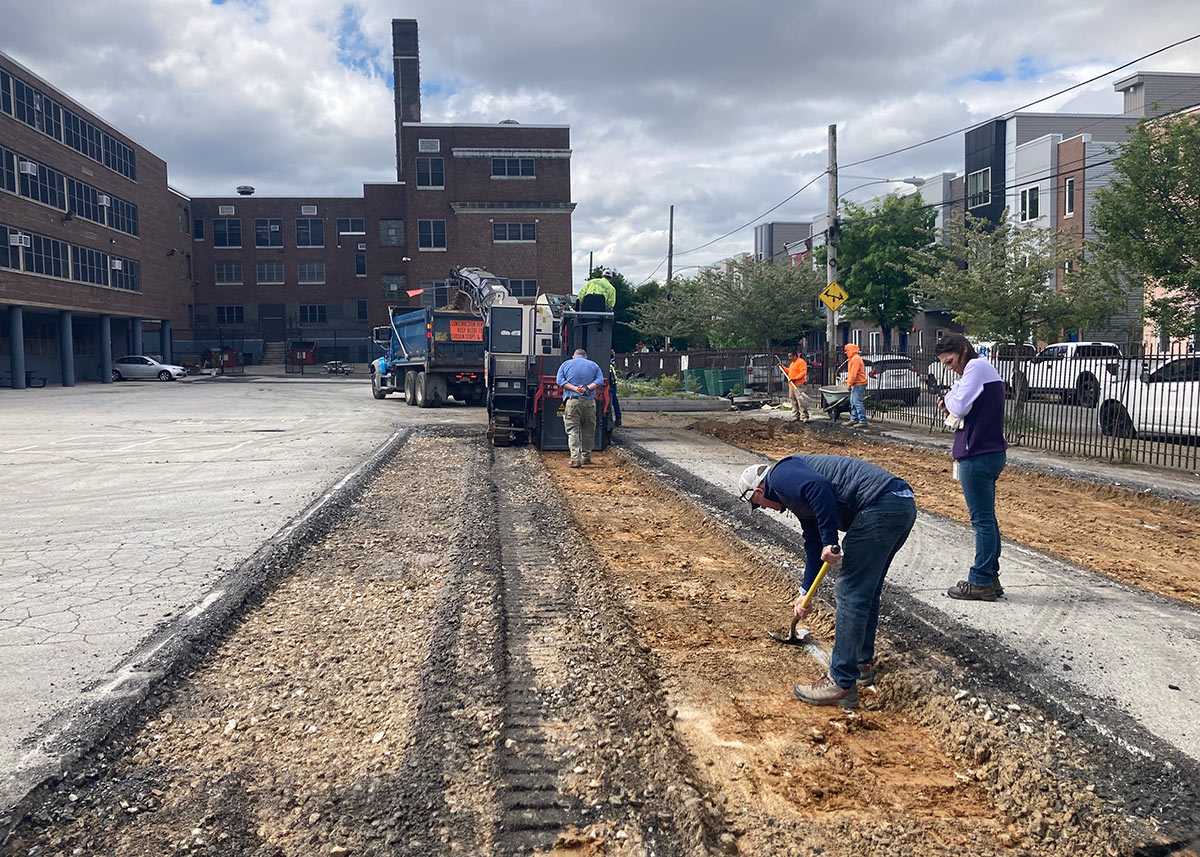 A community vision for Philadelphia's greenspaces
The U School is a high school, offering project-based studies in agriculture, food & natural resource careers and technical education. According to Philadelphia's 2023 Urban Agriculture Plan, the U School is in a high-poverty neighborhood with high development pressure, causing community gardens to be lost at a high rate. 
Students participate in seasonal food growing tasks and grow a wide range of food in raised beds and the new People's Garden space. They take field trips to local community farms like the nearby Life Do Grow Farm, and learn about the science and social history of food systems and climate change. The farm installed a Xerces habitat kit, which together with the school garden, creates a local network of pollen, nectar, and nesting resources for pollinators. These habitats provide pollination and pest control services are available whenever community members grow food — contributing to food sovereignty and resilience. 
"So many generations of U School students have put so much love, energy, and time into our shared space — from mulching, to weeding, to planting and harvesting — The U School students have done it all," said Isa Higgins of Life Do Grow farm. "As our space works towards sovereignty in our community, it is so vital having young people at the farm who are excited about growing food, climate justice and making connections with people close to them. It's really a beautiful thing to see two communities combine to lift each other up."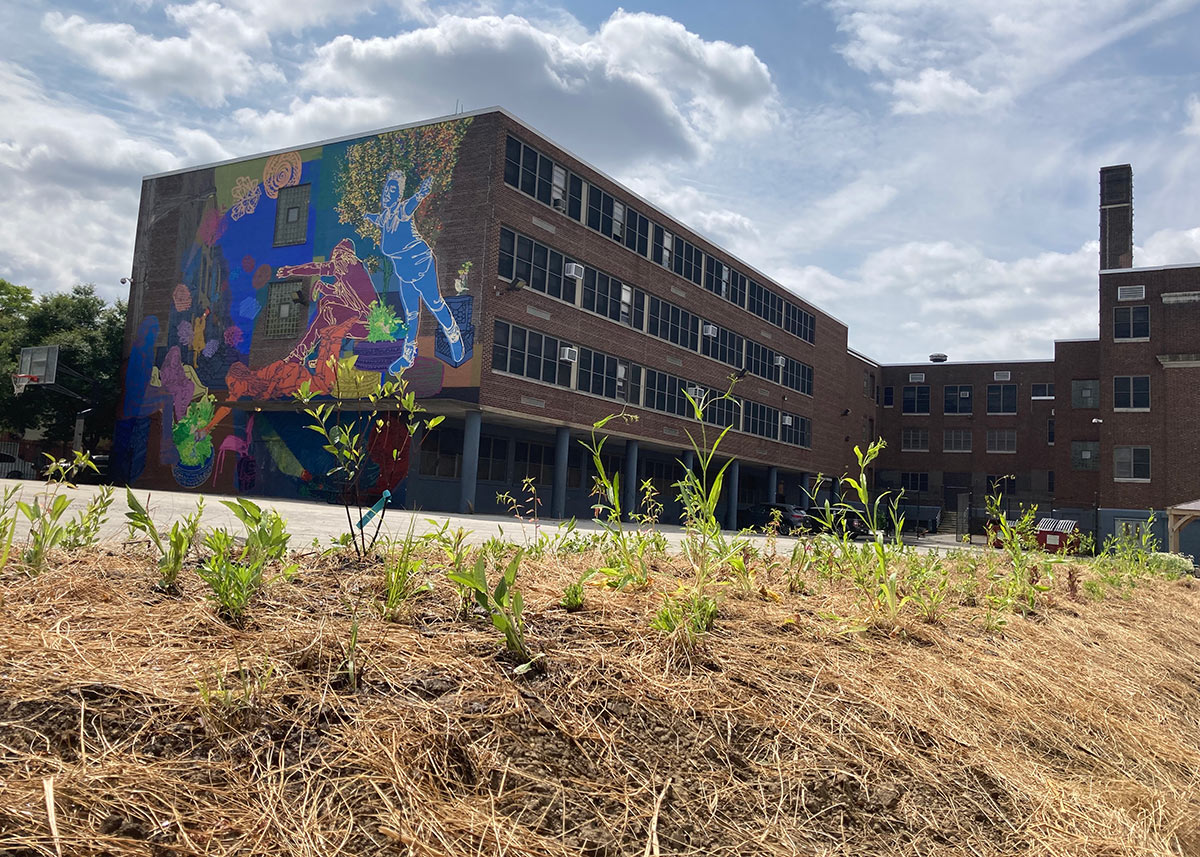 From pavement to habitat: a step-by-step process
Depaving day was an exciting event. NRCS staff provided oversight during depaving, including a visit from NRCS District Conservationist Beth Sassaman and NRCS State Archaeologist Christopher Plount. The depaving was subcontracted by Think Green as part of the project budget paid by the Peoples' Garden Initiative grant, while Xerces provided support for the meadow plantings. 
Two 15ft x 75ft linear parallel beds were designed by the students to make the beds easily accessible from all sides. One bed is for vegetables and other food, and another bed for pollinator-friendly perennial meadow plants with a border of annual flowers and herbs.
The depaving took just one workday thanks to access to a cold planing and milling machine. This cuts to an adjustable depth and can make multiple passes across a target area to handle different material densities and texture. The removed asphalt was taken to an asphalt recycling center. 
Urban sites often have high levels of lead and other heavy metal contaminants and soil should always be tested. At the U School, a soil barrier of heavy weight non-woven geotextile fabric was installed under the bed with edible crops. 150 cubic yards of soil with at least 10% organic matter were purchased from a local vendor.  
Coconut coir logs edged the beds and stabilized the soil, which was raised above the surface of the parking lot. Salt hay was added as mulch for moisture retention and to help with weeds.
The Xerces Society provided plants and shrubs from Pinelands Nursery in Columbus, NJ, which were selected to provide pollen and nectar to important and declining pollinator species, and to support beneficial insects which contribute to natural pest control in the garden.
The design was also intended to make the space welcoming, and enhance the sense of place and local identity in the neighborhood. The basketball court next to the garden is often used by neighborhood kids as a play area after school. Future plans include a sun shade and benches to create a community gathering space between the raised beds and the depaved meadow and garden. 
Adding to the future possibilities of USDA support in the neighborhood, the brand new USDA Philadelphia Urban Service Center has recently opened just a couple blocks away, and the garden serves as an ambassador to other local farms to begin the conversation about what services and programs the USDA can offer to Philly farms.