What does it take to build a pollinator-friendly city? Along the Santa Fe Pollinator Trail, this question has been answered plant by plant, across dozens of organizations and hundreds of helping hands.
The sprawling effort is now captured in a new StoryMap, Building the Santa Fe Pollinator Trail, which uses guided imagery, video and maps to capture the cumulative impact of many different people creating pollinator gardens across an urban landscape.
Residents welcome pollinators back to their city
Habitat loss is one of the major causes of pollinator declines. In cities and towns like Santa Fe, large expanses of pollinator habitat are removed due to development of buildings and roads, leaving a few small patches of habitat left behind for wildlife to use. These patches of parks, rivers, trail sides, and other open spaces become mini-refuges for urban wildlife, but may be isolated and difficult for pollinators and other wildlife to move from one to the other. 
This is where residents and other property managers can make a difference. By planting a diversity of pesticide-free native plants in yards, gardens, and other outdoor spaces, city-dwellers can add habitat within urban landscapes and improve connectivity between open spaces. To really make a significant impact, this needs to happen at a large scale on many properties throughout a city.
Habitat kits make high-quality plants accessible
To help reverse habitat loss in Santa Fe, Xerces started the Santa Fe Pollinator Trail initiative to create connected, climate-resilient habitat throughout the city. By providing plant material through the Santa Fe Pollinator Habitat Kit program, hundreds of homes and dozens of public spaces installed plantings of a diversity of native, pesticide-free pollinator plants. The kits overcome a major barrier to habitat restoration since, for most gardeners, it can be difficult to find many native plants important to a diversity of pollinators from pesticide-free nurseries. 
Xerces works with Santa Ana Native Plant Nursery, a Pueblo-owned plant producer, to grow the habitat kits. Each kit contains multiple species of native pollinator plants that together bloom from spring to fall, are pesticide-free, and are appropriate species for the Southwest's hot and dry climate. These plants are offered at no cost to our selected habitat kit partners and follow-up support is provided to help gardeners care for their plants.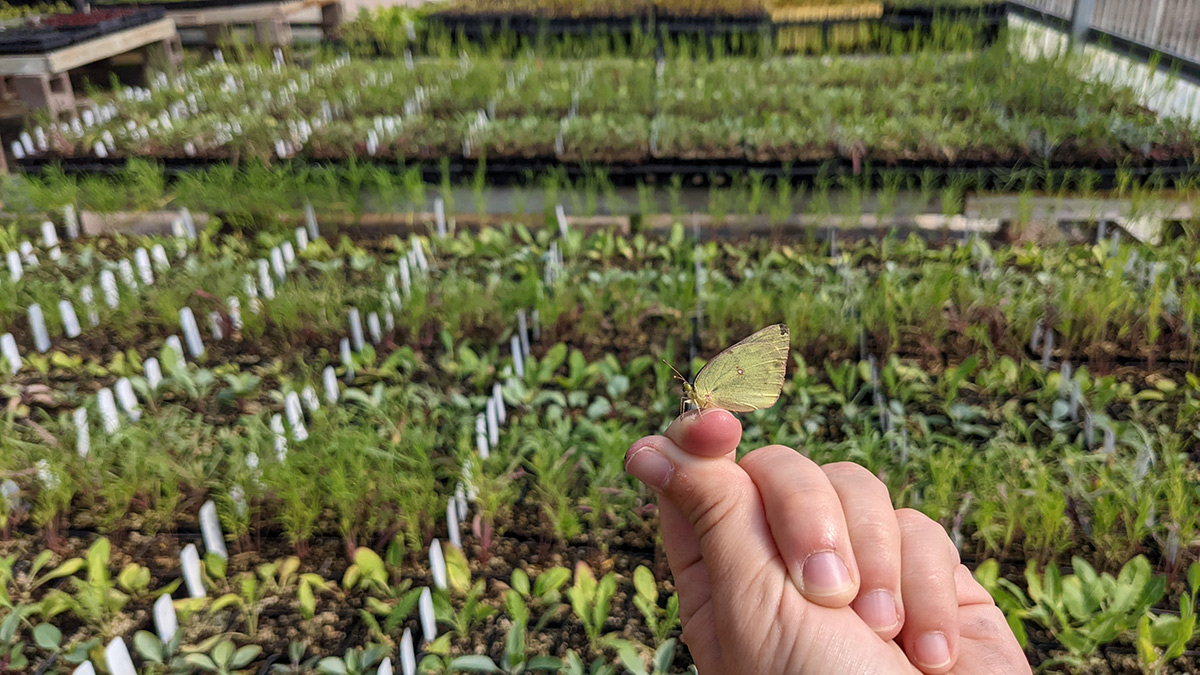 Santa Fe Pollinator Trail surpasses 20,000 native plants
The most impressive element of the Santa Fe Habitat Kit program is the hundreds of individuals and dozens of organizations working to nurture the kit plants on their properties. Thanks to the dedication and hard work of these partners, nearly 20,000 native pollinator plants have been added to the Santa Fe landscape in neighborhoods, parks, community gardens, and schools. 
As these kit caretakers watch their new plants bloom for the first time this summer, many others are submitting project proposals for their chance to receive a Santa Fe Pollinator Habitat Kit. Later this year, 200 more kits will be distributed to new partners to continue growing the community of the Santa Fe Pollinator Trail.
Further Reading