In honor of Mother's Day, we thought it would be nice to have a mother's perspective on pollinator gardening. Alice Vaughan wrote a lovely narrative of her bee garden on Cape Cod in Massachusetts. Alice's son, Mace (who co-directs our pollinator program), added his memories of sharing in the garden.
Alice's View of Her Garden
I have always enjoyed gardening. I love being among the plants and the bees that come to visit them. A few years ago I saw that Xerces was offering plants for sale that attracted bees. I was very excited. We had a bit of land along our driveway on which orange daylilies and ivy fought for dominance; a rather boring area, I had always thought. So, as soon as I heard of the Xerces offer, I knew I had to clear that area and plant a bee garden.
In the years since, the garden has thrived. I have expanded it with the help of our son, Mace, adding not only more plants that attract bees, but some of my personal favorites as well (who says all of the plants in a bee garden have to attract bees?!). This garden is a joy to me. I stand in it in the spring and summer, close my eyes, and the world around me hums and vibrates with the bees, large and small. They are amazing to watch going about their work every day, or curled up to rest occasionally. Each time I drive in, I pause and roll down the window just to say hello and listen in appreciation of their lives in our world.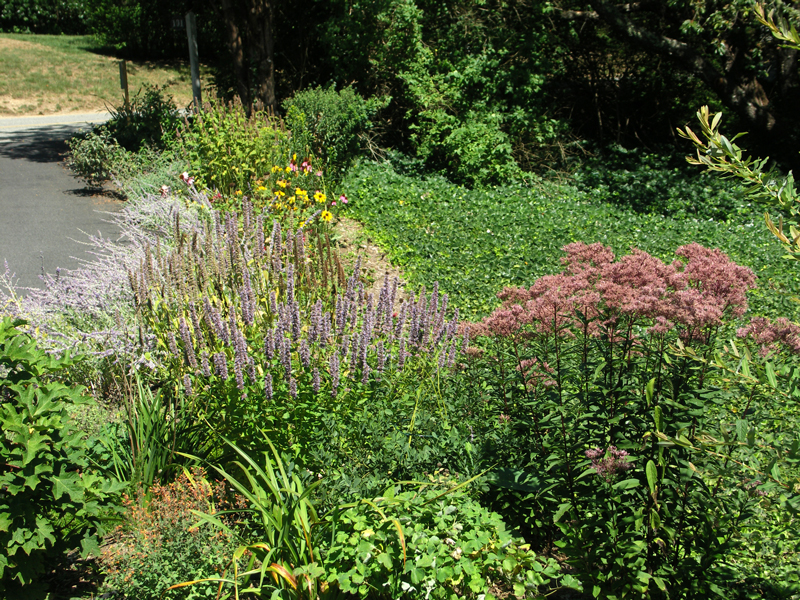 Mace's View of the Garden
The bee garden my mom describes is a place — almost a sanctuary — that connects us across a continent. Spring, summer and fall, I love hearing stories about new bees or new plants in the garden (on the last call, I learned that the milkweed was already 4 inches high!). My dad makes sure to send photos (always with the date and time attached). And, when I visit, I enjoy adding plants or pulling weeds under the direction of my mom, or just watching the bees and sharing their hidden stories with my family.
This garden connects us. This is not unusual: gardens bring together families, neighbors, communities, nature. The garden is a way to share work and place, whether it is families working in the backyard to raise a small crop, community gardens that bring a neighborhood together, or a wildlife habitat that attracts bees, butterflies, and birds closer to home.
We are a private family, and I worried that this peek at a gift that I share with my family would somehow violate a trust. As I've put these words down, however, I think that this glimpse into our lives is okay. I'm struck by how lucky I am to share this experience with my mom, and I hope it helps inspire you to create a garden for pollinators and share it with the people that you love.