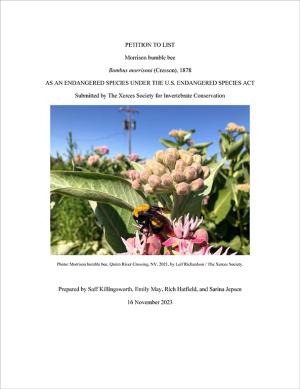 The Morrison bumble bee (Bombus morrisoni) was proposed for listing in 2023 through a petition submitted by the Xerces Society.
The Morrison bumble bee historically occurred across much of the Mountain West; this broad geographic distribution has made it vulnerable to multiple threats across its range. Populations of the Morrison bumble bee have declined in recent years (2011-2021) by 74% in relative abundance, persisting in 66% less area, relative to the historic time period. This decline is associated with habitat loss due to climate change and overgrazing, as well as overuse of pesticides, disease, and competition with honeybees, among other factors. Many populations of Morrison bumble bee experience multiple threats, and the synergistic effect of these combined threats present increased risk for the species. Existing regulations are inadequate to protect this species.
This petition presents information that Morrison bumble bee meets multiple criteria of an Endangered Species under the U.S. Endangered Species Act.