Ensuring that pollinators and other beneficial insects have safe, high-quality habitat has been the cornerstone of the Xerces Society's Pollinator Conservation Program over the last two decades. Xerces has built a team of experts that work tirelessly toward this goal across a range of landscapes, including gardens, roadsides, parks, golf courses, and natural areas, but the primary focus in the last decade has been working with farmers and other private landowners. Xerces staff has worked closely with the USDA Natural Resources Conservation Service, a partnership that has produced hundreds of trained conservationists and regional technical guides in use by NRCS offices nationwide. Thanks to an agreement between the Xerces Society and the NRCS, this partnership sustains several joint Xerces–NRCS pollinator conservation specialists, including myself, who actively assist farmers seeking to enroll in the conservation programs offered by the NRCS. Bringing this specialized knowledge of pollinator conservation to the NRCS has increased the agency's capacity to offer more support to farmers—and resulted in many excellent habitat projects.
I have been working with NRCS staff and farmers in the Mid-Atlantic and Northeast states to raise awareness about the importance of pollinators, speak up for pollinator protection, and provide technical assistance to get high-quality habitat on the ground. In my region, the response to conserving pollinators has been astounding. Recently, I tallied up the number of landowners I have worked with to install pollinator habitat on their land: In just the past three years I have helped develop pollinator conservation plans for over 150 landowners. This includes a variety of projects ranging from creating site-specific seed mixes for creating pollinator meadows or plant lists for hedgerows to developing comprehensive whole-farm pollinator conservation plans that include habitat installation recommendations and pesticide risk-mitigation strategies for pollinator protection. The first step in this process is to meet with the landowner and learn about their conservation goals. Then we walk the farm, conduct an in-depth assessment of the existing foraging and nesting habitat for pollinators, and determine where improvements can be made. These alternatives are presented to the landowner along with all the resources and support they need to install and manage habitat improvements for pollinators.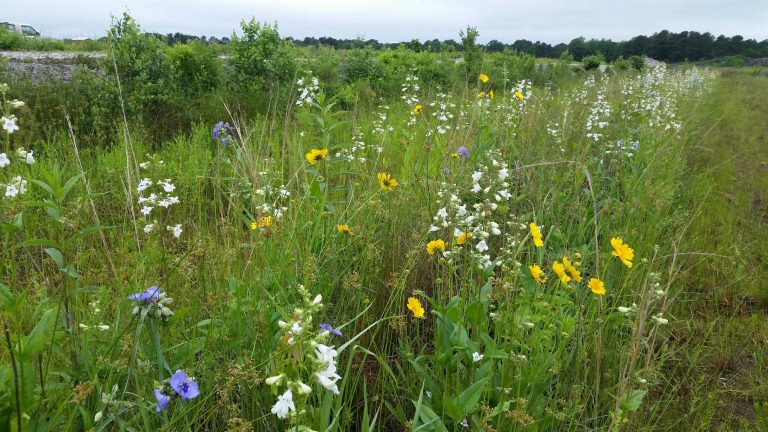 What makes this even more impressive is the enthusiasm of the farmers because participation in NRCS conservation programs is voluntary. To incentivize participation, farmers can receive financial assistance to help to offset the cost of installing hedgerows, wildflower strips, and other habitat enhancements to support pollinators and the services they provide. I must admit, there are many other Xerces staff doing the same great work across the country, and none of this would be possible without the extensive expertise of our staff. For us, it is all about teamwork. This nationwide collaboration offers practical advice and technical support on habitat restoration and management for pollinators, as well developing new techniques such as organic site preparation to make pollinator conservation straightforward and cost-effective. Because of this work, over 250,000 acres of flower-rich, bee-safe habitat have been created across the U.S., including acres of wildflower meadows and miles of flowering hedgerows. By providing the flowers and nest sites that pollinators need, and minimizing insecticide use, farm landscapes can become sustainable ecosystems that support the pollinators that help ensure bountiful harvests, and overall biodiversity, bringing benefits to both farmers and the surrounding communities.